Girls Dive Ends 2019 Season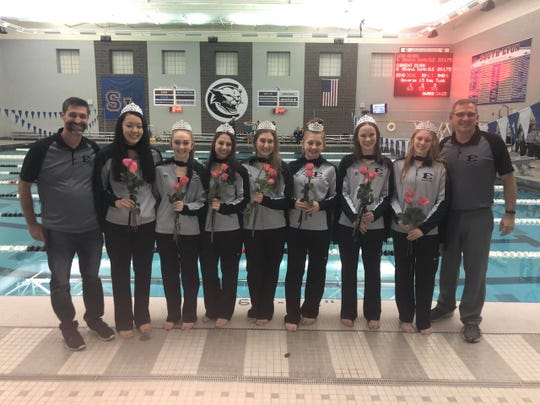 South Lyon East diving coach Kevin Ferguson, Hannah Sun, Alyssa Mayer, Melanie Cosens, Lindsay Boals, Sophia Ohland, Lindsey Filhart, Allison Engberg and swim coach John Burch celebrate senior night.
Photo by

Jill Ohland.

By Mackenzie Thurman

Girls Varsity Dive reached their final days last week.

Senior Sophia Ohland, and sophomores Kate Benjamin and Maia King all achieved their personal record in the 2019 season.

Senior Alyssa Mayer, Olhand and Benjamin all qualified for the Diving Regional Meet. Ohland placed 8th out of about 25 at the meet.

Ohland's mother made a bet with her. If she scored above 200 her mom would give her $50. Ohland earned both the $50 and a new personal record.

"About 218.6," Ohland said her PR was. King scored a 134.7 PR and Benjamin scored a 141 PR at the home pool.

"I was excited, it was only a couple points over my last PR," Benjamin said.

"I'm kinda good," Ohland said, "I'm not amazing but I'm better than most."

Ohland has received multiple offers from colleges but she is unsure of continuing the sport in the future.

Among her four years, Ohland learned a total of 15 dives.

Each dive has its own simplicity and difficulty for each athlete. A 103B front 1 ½ somersault pike ranks most simple for Ohland.

Her most difficult: a 203B back 1 1⁄2 somersault pike.

"I can't get my entry to line up, I'm always short going into the water," she explained.

Benjamin and King have learned a total of 13 dives each so far. For both, a regular 103 front 1 ½ ranks as their easiest dive.

King said, "I'm not scared until I flop, I do the motions step by step in my head if I'm nervous."

King is a former swim athlete; she switched to the dive team halfway through her freshman year.

"Since I quit the swim team, my mom wanted me to stay in a sport," King said, "I wanted to stick to the same team, diving seemed more fun."

Benjamin attended Millenium Middle School where her 8th grade science teacher Mr. Costa knew Varsity Dive coach Mr. Ferguson (Ferguson also teaches 8th grade science at MMS). With the friendship between the teachers, Ferguson found out about Benjamin and encouraged her to join the dive team.

Now, 2-3 years later, Benjamin said, "He taught me everything I know, I didn't know anything about dive until I was coached by him."

Ohland has also known Ferguson since middle school.

"He's the best around for sure," Ohland said, "He's really good with highschoolers, he's very supportive, and taught me everything I know."

Ohland said, "My mom pushed me into dive after I quit gymnastics."

South Lyon East High School hosted a summer dive camp to prepare for the season.

King said, "I liked learning new dives and liked how much I cleaned things up [during camp]."

The girls don't move on to learn a new dive until the coach thinks they are ready to; if the coach thinks they're ready, he'll let them move on.

The dive team typically competes alongside the swim team. The swimmers have their State Finals this weekend to complete the combined season overall.