From Cougar to Laker: Lindsay Boals Commits to swim for GVSU
South Lyon East High School is home to many cougars with talent. A lot of this talent, specifically athletic ability, grants these students the opportunity to continue developing their skills through college.
One student in particular, Lindsay Boals, has been given the opportunity to continue her swim career at Grand Valley State University.
After conversing with the GVSU coach junior year, Boals was invited to an official visit to the campus during her senior year. The week after her tour, it was decided that Boals would be a great fit for the team and she was offered a swim scholarship to further her already extensive career in swimming.
Boals began competitively swimming at the age of 7, and has been swimming ever since. She has swam for both club teams and the school team, and has remained on varsity for all four years of high school.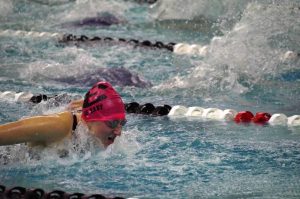 Boals's high school career has been full of success. Boals participated in a relay that received all American (top 100 in the country), and broke the varsity record in the process. Most recently, Boals competed in the LVC Swim and Dive Championship and set a new LVC record in the 200 freestyle, finishing in first with a time of 1.55.89. Along with setting a record in the LVC Swim and Dive Championship, Boals finished fourth in the MHSAA State Meet in the 50 freestyle.
All of her success, however, came at no easy feat. Like every athlete, Boals faced many challenges.
"I trained for a whole year, worked out non stop, and still didn't drop any time in my events which was very frustrating," said Boals, describing her 2018 swim season.
Along with struggling with self improvement, Boals had to adjust to a drastic change when the school team split up SLE and SL. Boals lost both friends and teammates and had to learn how to become a leader of her new team.
Along with physical struggle, athletes can also go through mental struggle. Like many, it has been difficult at times for Boals to have a good attitude and believe in herself.
Through her challenges, Boals has continued to persevere and push herself to the point where she is today, but she did not do this alone, she has had support to help her through her swim career.
One of Boals's supporters, her coach, pushes her. For example he makes Boals do sets in practice that are out of her comfort zone and continues to guide her so that she can achieve them. Her coach also attends many innovative clinics to continue learning more techniques for swimming in order to educate his team.
"My coach knows my goals and he knows what to do so I can achieve them and knows how to motivate me. He can be hard on us sometimes but he is very knowledgeable and believes in us and what we can accomplish."
The largest support system for Boals, however, is her parents.
"They are the ones who have driven me to all of my practices and meets, and always make sure that I have the best equipment and gear. The are always there for me, whether I've had a good or bad race. I don't know how I could have gone this far in my swim career without them," Boals said.
Now that her high school swim career is over, Boals is looking forward to meeting all of her teammates at GVSU, receiving all of the free swim gear and swag, and strengthening her support system with new trainers and coaches.
In spite of her feelings of excitement, Boals is also nervous to juggle both swimming constantly and striving to get good grades.
Though she may be nervous, Boals's parents plan to continue their constant support.
"Since we first watched Lindsay compete, we knew swim was going to stick with her for awhile, and we knew we would always be right by her side. As her years of high school swimming has come to an end, we are so blessed and thrilled to cheer her on in the next chapter of swimming in college," said Ms. Boals.
As she transitions from a Cougar to a Laker, Boals plans to apply the same strength and determination that she has been applying her whole life.