MLK 2018: How East Remembered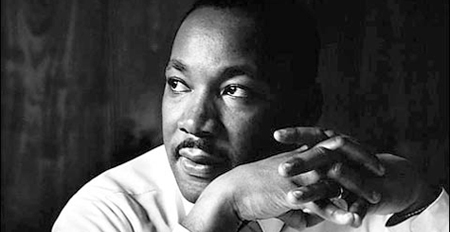 This past Friday, all SLEHS students watched a portion of the documentary "Mighty Times: The Children's March " to celebrate Martin Luther King Day. This follows the story of Birmingham, Alabama in 1963 and centers on what the children of the most segregated city in the US did to change their futures and freedoms.
Around four years ago, Tamara Evans, American and World History teacher at SLEHS was recommended the video by Dr. Schmeichel, Former Assistant Superintendent of Curriculum Construction Technology and Assessment, for students to watch the coming Martin Luther King Day. She thought the video would be great for high-school age groups.
Evans used the Common Core lesson plan format, including an anticipatory set, an activity, a follow-up activity, and a closure. This was the second time that East students participated in this lesson since its creation.
The reaction from students was again positive.
Senior Sable Dobbie said, "I really liked it. I like how its about the kids… it's a different spin on things like how the kids made a big difference when their parents couldn't…It puts things into a different perspective that you normally don't see with MLK day activities… compared to stuff we did in middle school, so I liked this video. It's the second time I've seen it too and it's still my favorite."
Evans explains the novelty of this video: "You guys learned about it in ninth grade, and you know about it because you're an American and it's all over the place. We want you guys to remember that what Martin Luther King was talking about was changing society and all of us can help to improve society. It is often that adolescents say 'I don't need to know about this because I really can't participate. I can't vote, I don't matter' and that's not true. So this video shows just how much power any group of people have, even you guys."
Linda Bowman, Assistant Principal at East, shared very similar sentiments about her favorite MLK lesson, "The video is all about how the young people changed their community…Not the adults, not the politicians, kids… It shows that kids have a voice in the world."
Students were also reminded that Monday's observance is meant to be a day of service.
Bowman explained that, before, students went to school on this holiday to learn about it. "Now, having the day off gives students the chance to have a day to serve the community…It is not the day to sleep and relax. It's for other things."
Evans questions, "Do we really remember what the fourth of July is about? Or do we just use that as an picnic day with your family? It's easy to forget that stuff, so it's kinda nice to do a lesson like this to remind people what's the purpose of the day."
It seems that in addition to a school lesson each year, South Lyon students will continue to have the day off for some time. But new talks are in the works as to what could collectively (school clubs, administration, community, etc.) be offered for students to be active on that day.
"So, what I really would like to see happen with this day," Evans suggested, "is not [just] giving the day off, but having projects, community projects, that students are participating in for an entire day. You don't have to go to class, but participate in some kind of project to help out other people."