The Spring Musical is Coming!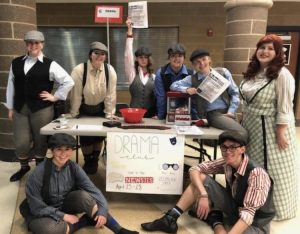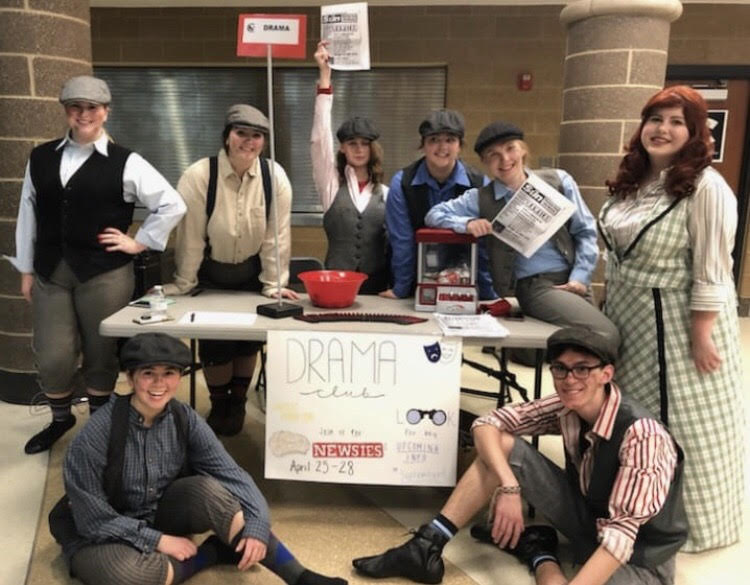 The South Lyon East theater will be performing the musical, Newsies, on April 25-27 at 7 p.m. and April 28 at 2 p.m. The performances will be held in the South Lyon East auditorium.
The leads this year are Hannah Kindree, playing Katherine, and Kyle Utterbeck, playing Jack.
"The cast typically rehearses 2-3 days a week. However, our schedule is pretty random," Reeds said. There are three types of rehearsals: vocal, dance, and blocking.
In the vocal rehearsals, everyone sings the group songs together, and those with solos will stay after to work on them with the vocal director, Tendra.
Most dance rehearsals include everyone in the cast. However, for sections of songs as well as songs that only include tappers or featured dancers, there are separate rehearsals for them.
On blocking days, the cast will go through a section of the script with the director, Wendy. When they are with Wendy, they will combine the songs, dances, and lines to run through and learn a certain part of the show in one whole section.
Junior Meredith Steineker said, "I've always loved to dance and act, and I'm also in choir so the musical is the perfect way to incorporate all of those things."
With every rehearsal, the cast gets to know each other better. "Rehearsals can get long and tiring, but my friends and I always find a way to laugh and have fun," Steineker said.
"One time, three of my friends and I made up a dance together backstage while we weren't in being blocked," Reeds said.
"Some of the best memories are created during that extra time at rehearsal when it isn't our turn," Steineker agrees.
Reeds said, "The main reason I joined the musical was to find a group of friends and express myself through the arts. Everyone here is so accepting and kind. I feel like I've definitely found amazing friends through this program."
The week before all the shows, the cast has tech week. During that week, everyone stays extra late and the techs rehearse with them. "It's a crazy week, but some of the best memories are always made during it," Junior Ciarra Salwa said.
"Before every show, we get in a circle as a cast with our costumes and makeup all ready and have certain people for that night dedicated to share things such as their favorite memory of the show, a prayer, who they are dedicating that nights show to, and a favorite line," Steineker said.
"Once we start doing actual performances in front of the audience, their reaction is super rewarding, as well as seeing all the work pay off. It is also cool seeing how the shows are formed, where the blocking, dancing, and singing is taught separately but manages to come together to create one huge show," Salwa says, "However, the most rewarding thing would have to be the friendships created."