From Snow to Sand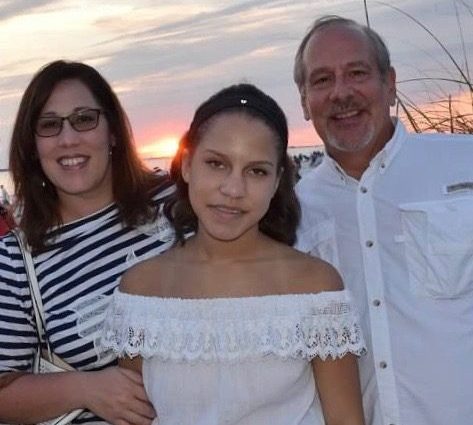 By: Addison Salyer
"Moving from Michigan to Florida wasn't easy, but it for sure had its pros", smiles Michael Quigley, former Michigan resident and current Florida resident. The wonderful weather, the house with a gorgeous backyard pool, and even the company of a new goldendoodle puppy makes Quigley's smile grow bigger everyday. Going from plowing the freezing snow off his driveway during the winter months, to walking his dog in the heat everyday is definitely a drastic change.
While his immediate family is completely supportive of the move, they miss him back home in Michigan and miss his company. The difference is how far away the love spreads, which went from 20 minutes away to 20 hours. However, the lyric by Charlie Puth in his song,One Call Away, stands strong to this family;"I'm only one call away."
This journey all started when Quigley bought the tropical house in Fort Myers, Florida for visits during the winter time back home in Michigan. "As an older guy, it's nice to get out during a cold season and enjoy the warmth,"Quigley expressed.
The more and more he visited this "beautiful, dream like area,"as Quigley describes it,he fell in love with the scenery and the location itself. Quigley boasts in excitement,"My backyard has a heated saltwater pool that includes a hot tub,and Fort Myers beach is only a 15 minute drive.What else could be described has perfect besides this?"
Quigley, years later, decides that his Florida house should be used more than just 1 season, plus, as a single,retired man, Michigan wasn't tying him down."It's anybody's dream to move to a tropical location, but when the power is in your hands,you can make it happen,"advices Quigley.
"Moving to Florida year round has been one of the best decisions of my life," Quigley proudly says.
Like in most situations,with the good,comes the bad. When Quigley moved to Florida he was missing a chunk of his heart, his family back in Pinckney, Michigan. Quigley explains,"[Moving to Fort Myers] has shown me independence, which is wonderful. But I miss my daughter and her family endlessly."
His daughter, Michigan resident,Casey Elmore expresses reciprocated feelings toward her role model down in Florida. Elmore expresses,"I'm proud of him for moving by himself, [but] I worry about him alot… and that's just my personality." The love is radiating from thousands of miles away.
"However in these cases, you just have to think on the bright side, and there's always a school break that is coming up to visit him," Elmore laughs optimistically. This family makes yearly trips to Fort Myers for vacation, and especially, see one of their favorite people.
Third generation down, Brooklyn Fleming has a bond with her grandfather, Mike Quigley, like no other. Fleming explains,"I have a countdown everytime I prepare for a Florida road trip. It's a mix of excitement to leave the state, but also to see my grandpa."
After 1,308 miles in the car ride to Fort Myers, the family makes a magnetic connection when they arrive back together. Feelings range from happy, to relieved to end the long,exasperating car ride."It's not really a vacation unless my family is here with me,"Quigley states.
Months go by, and they aren't content with their happy lives.Living the dream down in Fort Myers isn't necessarily a perfect dream without any company.
This move caused something to happen that never would have happened without the separation feelings between the family. The family who never been puppy people, allowed puppies to the void caused miles of separation.
Casey Elmore,feeling risky, and came home with a bundle of joy that would change all of their lives forever. A fluffy, happy, and adorable Cockapoo puppy strutted through their living room door and Brooklyn's world shifted upside down, with a little brother, Nugget.
Fleming expresses that her new edition changed her life for the better. She now has some company as being an only child."I have some company now, it's like having a little sibling to look after, except it's a furry."
Elmore and Fleming were both so satisfied with this addition to the family. Elmore,in fact,was so overjoyed about Nugget that she called her dad back in Florida. On the phone, Elmore said,"Dad, you should get a dog too.It completed our family and it will definitely give you love when you're missing us."
Quigley responded in shock,never predicting that his daughter would own a dog. He took her advice into consideration,and made some changes of his own.
Not too long after,Quigley had a furry friend running around his dream home. He expressed that the dog gave him so much joy,that he didn't know he didn't have."This dog gives me love, gives me something to do,and most importantly, gives me a friend," Quigley says after breaking from the long smiles.
Quigley gave his dog, Zeus, a home, while giving himself a friend. They both are learning how to live with each other, and Quigley says "it's going better than expected." They go on walks, they go to the dog parks, and sometimes just cuddle in bed.
Throughout this crazy process,this family bonded when their puppies met for the first time over holiday break. Elmore says,"It's great to be with the family, and even better that we have dogs that bond like we do."
Quigley agrees,"I never knew these two dogs would make our lives complete."
The transition from Michigan to Florida was a change,but for the better, as Quigley, Elmore,and Fleming describe,"We learned how to love each other more, we learned the value of each other more,and we learned the value of family," expresses Elmore with tears in her eyes.
In more detail, Elmore says "You don't know how much you really love someone until they're not close anymore."The move for sure pulled the driving distance apart, but brought their family's love closer.