One Lap At A Time: Three East Swimmer's Path To States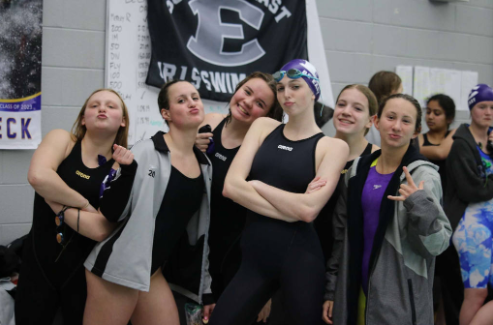 Swimming is among the oldest sports practiced today.  An incredibly difficult feat of athleticism, it requires the full use of one's body which needs to be conditioned, trained, and prepared for 20-30 laps of grueling, constant movement.  There's an old phrase that compares success to ascending to the top of a mountain, and the mountain for swimming is as high and hard to climb as there is.  
Nevertheless, three students from East scratched and clawed their way to the top, making it to the state meets and obtaining the status of some of Michigan's elite swimmers.  Their names; Ashlyn Houtman, Peyton Wasielewski, and Sophia Lickman.
When asked why she chooses to swim, Ashlyn Houtman admitted that there are days she asks the same question. "We have to be at the school at 5:30am two days a week during the season, and then we stay after school until 5:30. There have been days I've been at school from 5:30am to 9:30pm, and it's exhausting".  But ultimately, Houtman admitted that her commitment to the sport since the time she's been in seventh grade as well as her overall enjoyment of the sport keeps her going. 
"I like the work that I have to put in and the friendships that develop from it. I've met some of my closest friends because of swimming", Houtman said.
Sophia Lickman echoed her teammates sentiment, also stating that she has done swimming for a long time, even longer than Ashlyn.  In fact, Lickman has been swimming since she was seven years old.  She is striving to earn a Division One scholarship and continue her swimming career into college.  Lickman also believes, "Swimming is harder than most other sports because, first, it is very mentally challenging. If you're not in the right mental state before you will add time and also it is very hard on your body and you end up doing a lot more exercise than the average sport".
So how do three state qualifiers train?  Turns out, it's not all in the pool.  The team does something called "dry lands" which are non-water workouts that include trips to the weight room, running, and exercises with medicine balls.  But each swimmer has their own specific rituals as well.  
According to Lickman, "I prepared myself for states by working hard all season long and trying to get better throughout the season so when we got to this point and we went on taper which is when we rest and not have as hard practices I would be able to drop even more time and achieve my personal goals".  Houtman said, "I swam in the off-season and pushed myself to go faster once the season started".
Although the three and their teammates train like they're best in state, they either don't see themselves as the top in the state or are too modest to admit that they are.  
"If you look at the statistics of my times I am ranked top in the state but I don't like to mentally put myself thinking that because everyone can get faster and get ahead," said Lickman. 
Houtman said, "I don't think I am, however, we have one of the best swimmers in the state. Some of our relays that I'm on are close to the fastest in the state though."  
She is likely referring to Wasielewski, who placed tenth in the state in the individual meet, but she is hungry for more. "I scored 10th in my individual , but I could definitely improve a lot more and hopefully be ranked higher in the future," she said.
All the hard work paid off not just for Peyton, but the rest of the team too.  Houtman confirmed that they finished tenth overall in the state, firmly asserting themselves as one of Michigan's elite swim teams.