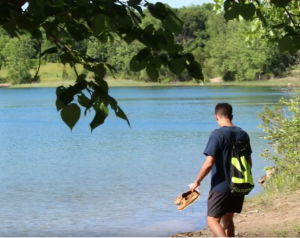 The summer can be a crazy experience, running around and experiencing new places, but it also can be a very boring time. Here are five fun things to do in the summer of 2019 around South Lyon and Michigan:
1.
Visiting State Parks:
There are a few big state parks around the South Lyon area that have many new sights. Island lake State Park, Maybury State Park, and Kensington State Park are a few of the parks around South Lyon. While at the parks you can swim, hike, play golf, fish, disc golf, biking, etc. One big attraction at Kensington Metro park is the Splash 'n' Blast water park. This is for all ages and can be fun for a whole family. For more information click here.
"There are many different things you can do at a state park. It depends on your interests on what you want to do," states Senior Michael Rochon
2.
Concerts/Festivals:
There are a multitudes of genres of concerts not only around South Lyon, but all of Michigan. Detroit has a few venues that are popular destinations for artists. You can visit many websites such as ticketmaster.com to find concerts and festivals around Michigan. Some popular concert/festival dates are:
Khalid– July 28
Faster Horses Festival– July 19-21
Mo Pop Festival– July 27-28
Tee Grizzley– June 20
99.5 WYCD Hoedown– June 15
Florida Georgia Line– August 10
"Concerts are lit and you also get to see your favorite artists," says Senior Elijah Beasley
3. Going to Lakes/Beaches:
Here in Michigan there is almost always a lake with in 20-30 minutes away, if not less. Lakes are always a go to during the summer heat in Michigan. Lakes can bring tons of fun if you play the situation right. There are a multitude of activities you can do while at the lake, such as swimming, fishing, boating, tubing, etc.
4. Golfing:
There are 10+ courses within 20-25 minutes away from South Lyon. With many of them having a 4+ star rating. Golfing can be a day of fun for not just yourself, but is a great way to get friends and family together for a day of friendly competition.
5. Sporting Events:
There are Tigers games almost every week in Detroit and there is a multitude of semi professional, or minor league, games around Michigan in Detroit, Lansing, Battle Creek, and many more cities. If you are into basketball there are 3 v 3 tournaments, Gus Mackers, that occur around the state. You can find more information here.
"Baseball games are always a fun thing to do in the summer, but make sure you bring some sunscreen," says Junior Angelia Thanos
Michigan is an amazing state and a great place to adventure out of your comfort zone. Don't be afraid to go out and try something new this summer. And don't forget to have fun!