Varsity Volleyball Claims District Title, Defeating SLHS
The team boasts winning season, including conference title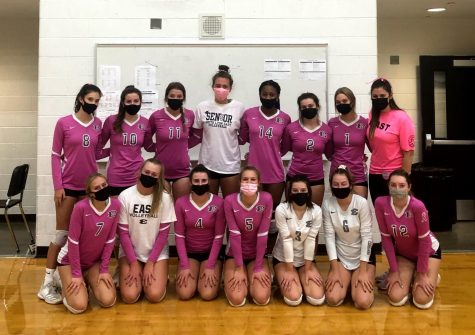 Last evening, the Varsity Volleyball team added a district title to their season record in a match up with their cross town rivals. The Cougars have held a record of nearly all wins this season, besides two losses and two ties.
The team has also won their LVC conference tournament recently. East held out their opponents in a tough match, winning 25-23.
 This season, the volleyball team has had games every Tuesday and Thursday with practice every Monday, Wednesday, and Friday with the exception of tournaments and other big events.
Head Coach Kelsey Masserant, who also teaches at East, highlighted some differences the virus has made for this season's sports. 
Masserant said, "It is hard for my players to hear me due to the masks and they now can't read my lips."
At every match and practice, all are required to wear masks, high fives aren't allowed, there is social distancing on the bench, temperature checks are taken, and players must answer a list of health questions every day. Even with all of these new rules in place, the team cannot participate in regular tournaments due to the limitations of the number of people allowed in the gyms. 
Spectators are limited to two people per player. At the very start of the season, the volleyball team was practicing outside in the grass with outdoor nets until Governor Whitmer allowed them to practice inside. This also caused the start of the season to be pushed back and some games to be rescheduled.
Despite the circumstances of this year, there has not been a decrease in the number of girls trying out, and the team has 40 members in total.
Madie Patton, one of the two captains of the volleyball team, said, "Games have been great! As a team we bring stellar energy to the court."
"As a team we bring stellar energy to the court." -Madie Patton
She added that the team wasn't sure if there would be a season and they appreciate every game and capitalize on every opportunity. 
Overall, the girls have high spirits.
"We try to emphasize that each day you get to play is a blessing," said Samantha Deinek, the second captain of the volleyball team.
"We try to emphasize that each day you get to play is a blessing." – Samantha Deinek