MHSAA Releases Schedule Updates for Fall/Winter Sports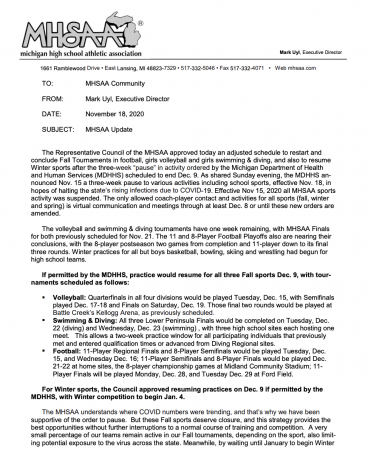 Because of the increased spread of the Coronavirus and the three-week break ordered by the Michigan Department of Health and Human Services, several high school sporting events have been rescheduled.
High school volleyball quarterfinals are December 15. State semifinals are December 17-18, and the State Final is December 19. Semifinals and finals will be held at Kellogg Arena.
Girls Swim and Dive State Meets are scheduled to take place December 22 for divers and December 23 for swimmers.
The Regional Finals for high school football are scheduled to continue starting December 15 and 16. State semifinals will be December 21 and 22, and State Finals are scheduled for December 28 and 29, to be held at Ford Field.
Winter sports are currently expected to resume practices December 9, and competitions are set to begin around January 4.
For more information, please visit the MHSAA Sports Re-opening Update Center as information continually becomes available.