2021 Standardized Tests and College Updates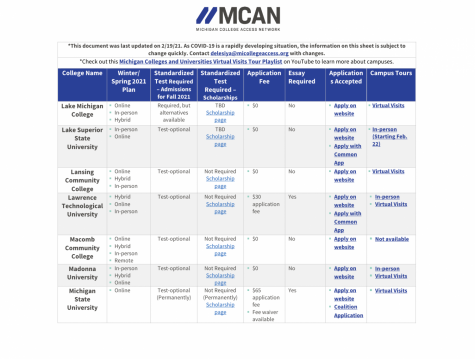 East HS Juniors can plan to be taking their formal tests (SATs) during Spring 2021 as usual. They have not been canceled. 
Yet, because of the pandemic, many colleges have made significant changes to admission requirements to help students. Many are not requiring test scores for admission.
Here is the current spreadsheet from  the Michigan College Access Network that shows some of the newest changes, and colleges are adapting more each week.
For many colleges, it is now optional to complete the SATs or ACTs which means that it really is optional. If you don't want to complete the tests, then you don't have to. However, it is possible to gain more scholarships if you score high on your SATs or ACTs. 
Some colleges are looking more loosely at grades as well. It is best to communicate with each individual college on their updated requirements throughout this unprecedented time. 
HOW DO I DECIDE?
Several colleges and universities are offering virtual tours in place of in-person tours so people can still get a feel for their chosen college environment. 
Another great way to learn more about a college is talking to friends or family who have gone or are currently enrolled. An increasingly important consideration is how well the college has adapted to online learning. Another important factor is how well a specific college is handling the pandemic in general, such as how often and in what means they send out informational messages.
Community colleges have rolling admissions which means that there is no deadline for when you can apply. Most community colleges also have open admissions, so anyone is accepted as long as they meet the requirements.The only reason you wouldn't be able to apply to a community college is if their classes are full for the semester but many colleges have adapted to having classes that are larger than normal. These admissions policies make it so most people won't have to apply to more than one college. 
Community colleges are likely to still be online in the future since they rely less on the income from rooms, dining halls, etc. Many students don't want to go to a more expensive college if all of the classes are going to be online which has led to community colleges preparing for a spike in applications this year. Many community colleges also have special advisors and programs for students who are transferring after one or two years. How credits are transferred depends on the state's policies and what agreements that community college may have with other colleges.