Halfway There: April 28, 2021
Podcast by Phil Sigouin. We interview Drake Willenborg with updates on throwing and his senior track season. 
QUICK GOUGAR UPDATES
Spirit wear orders are officially here!  Please pick them up in the Main Office on Monday, Tuesday, Thursday or Friday anytime between 8:00 AM and 3:00 PM.
College in High School Power Hour presented by Oakland Community College 
Oakland Community College would like to invite all interested high school students and their parents to join them on Thursday, April 29th, 2021 from 5:30-6:30PM for The College in High School Power Hour at Oakland Community College.  This virtual event is designed to educate participants about the various ways to earn college credit before graduating from high school. Leaders from Oakland Early College, Oakland ACE and Oakland Technical Early College will talk about the value of their programs and how to enroll. OCC staff will explain the vast number of support services that can help students succeed in dual enrollment, Early Middle College, and Career and Technical Education articulated programs.
SLEHS NHS Eric Domanico Foundation Fundraiser
NHS membership is raising money for the Eric Domanico Foundation to commemorate Eric's accomplishments as a SLEHS student and musician. A monetary donation will be made to the foundation and a Puzzle Collage will be produced and displayed within SLEHS.
BATTLE OF THE BEASTS
The Junior v. Senior Powderpuff football game will take place May 12 at 7 p.m. on the football field. Students are welcome to spectate and can purchase tickets from Ms. Duncan. Send any questions to [email protected].
S.A.N.E.  – Senior All Night Event
Please view the links below for information on S.A.N.E Class of 2021 fundraisers. The S.A.N.E. Committee appreciates your support.
The SLEHS schedule is at the link below:
Make-up exams will be held during Administration 3 only, June 1-9, 2021.  Please note that all make-up exams will be in the digital format during the late testing period, with the exception of World Language exams. If you need a late testing exam, contact the AP Coordinator ASAP for approval.
Make-up exams have to be approved by the College Board and AP Coordinator.
Please direct questions to your AP teachers or AP Coordinator,  Ms. Mara Elwart at [email protected]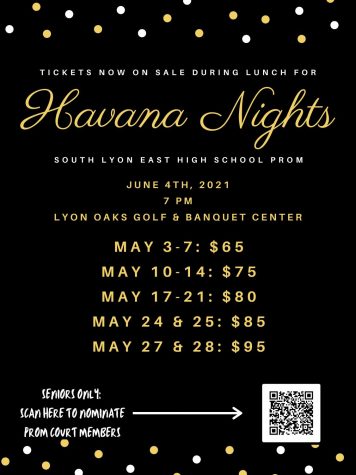 Important Dates
4/28 Make-Up for the ACT WorkKeys, 7:10am, Media Center
5/12 Battle of the Beasts, 7 pm
5/21 SIP Meeting, 2:30 pm
5/31 No School-Memorial Day
6/4 Seniors Last Day & PROM
6/8 Senior Honors Ceremony, 7 pm
6/12 Graduation @ SLEHS 
6/18 Last Day of School 
Leave a Comment