State Finals or Bust: Girls Cross Country Dominates Fall Season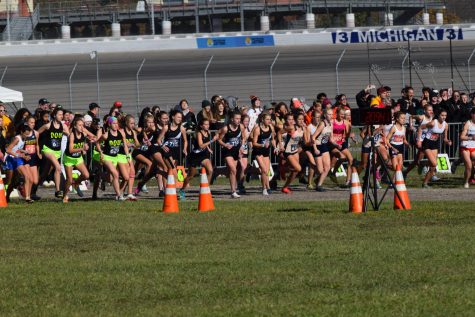 With an undefeated regular season, the varsity girls cross country team traveled to their respective championships where they finished top 3 at MHSAA Regionals and qualified for the second time to compete at Division 1 States as an entire team. 
Throughout their entire season, the varsity team had been dedicated to place in a high seat at Regionals. Even with tough competition and competitiveness, the team was able to pull out third place overall in the tournament.
Making it to States was the main goal of the tournament . There were 13 teams that faced off against each other for 1st place, which  would grant them, and the second and third finishing teams, a slot to run at states. The first 7 girls who finished for each team were scored for the title. East's top seven were Liliane Aittama, Ella Showerman, Amyla Eberhart, Bella Grant, Reganne Koskela, Megan Fannon, and Erin Gallager. 
Unfortunately in the 5k competition this year the weather circumstances (cold and rainy) tweaked the running quality, but this did not stop Sophomore Ella Showerman's  determination to finish strong.  Before the race even started she said, "I'm personally hoping for pouring rain and really cold temperatures. I think it's really funny when the weather makes things more challenging." 
Junior Liliane Aittama said, "Support for our team extends to family and close friends of the team, we have very supportive families that scream and make signs to make the race much more fun and easy." This pushed the girls, especially Aittama, to have the need for speed throughout the difficult race. 
Junior Amyla Eberhart ran her personal best that day, an admirable feat considering that the weather conditions were not at their finest.
Senior Quinn Murphy said, "This is my last high school cross country race ever, so I'm obviously a little bit more emotional going into the meet because it has been such a pillar of my high school experience. Hopefully I'll be able to channel this emotion into giving it all on my course and running a final time that I am proud of!" After the race, Murphy was more than proud of the team and was very excited to go watch the top seven race at States.
As for team preparation, Aittima said, "All of the 8am practices every morning of summer have been in preparation for this race. Mornings of muddy hill workouts, 10 mile long runs in the woods of sleeping bear dunes, and speed workouts all built up our endurance for the 5 kilometers."
David Testa, the varsity head coach, said publicly, "These girls. Through the hype, expectations, pressure, and projections fought like hell and QUALIFIED AS A TEAM TO STATES!!!"
"Our coach is usually a very heavy presence out on the course," Murphy said as she referred to Coach Testa, "he might run more than us as he goes back and forth to catch us in the most number of places around our course!"
Testa keeps a pretty active social media channel for the team as well. For his updates click here. 
The team ended up 13th overall at the State Meet, the highest so far in school history.