This Week In Brief (September 26-30)
The Three Cedars Farm has open barn doors for all who choose to indulge in some Autumn festivities. Head to Six Mile road to usher in the new season with cider, donuts, and Halloween themed decorations.
     Open times:
     Weekdays 10am-8pm
     Weekends 10am-10pm
——————————————————————————————————————————————————————————–
The South Lyon East Cheer team's season is kicking into gear as the football season progresses. They are beginning to work on their homecoming routine that is performed each year at the pep rally. The entire team is starting to throw back tucks, which is huge progress for the team as this is the first time that every team member is close to achieving this. The team is always looking for room to improve, so they all began attending a clinic each Tuesday to work strictly on jumps. The overall goal of the season is to hopefully make it to States for the first time in school history and everyone is putting in a great amount of effort to achieve that. Senior Emily Seybert says, "This is the closest I have ever seen the team and I have created friendships that will last a lifetime." 
——————————————————————————————————————————————————————————–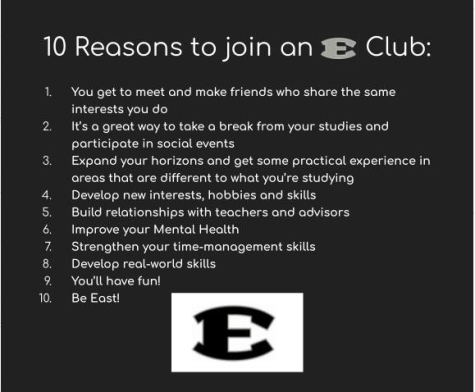 Clubs are beginning to start and, if you have the time, you should join one! Clubs and other after school activities are a great way to indulge in your interests. You can also meet people who share similar interests! If you are interested in participating in an after school activity you can always look at the board outside student services. Club information is always available there.  HERE is a comprehensive list of all 2022-23 clubs at East. 
——————————————————————————————————-
The student section has been more alive than ever and we all know there is nothing more exciting and encouraging than your peers cheering you on. Come support and have fun with the best themes and the best leaders: Connor McNamara, Kaylie Samluk, Elena Carlson, and Dylan Ruschak! Make sure to follow the student section Instagram to get all information on themes and more: @slehsstudentsection
Leave a Comment