Senior Career Day (October 12th) Info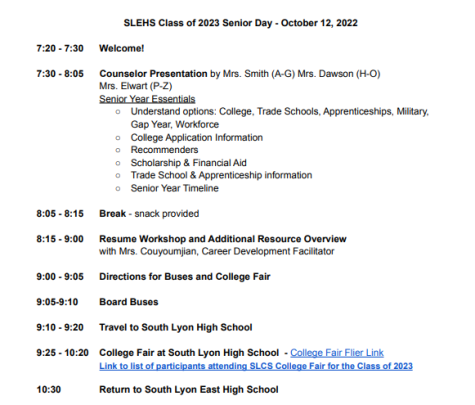 On October 12th, South Lyon East seniors will be travelling via bus (personal transportation isn't allowed) to South Lyon High School for the South Lyon Community Schools College Fair.  Before leaving, seniors will have the opportunity to discuss the following with their councilors:
-Post-secondary plans (college, trade school, military, ect.)
-Community college vs. four-year colleges
-Applications, transcripts, test scores, and recommendations
-Financial aid and scholarship
-Resume creation
First- students will arrive at normal time and then go to the auditorium for the counselor presentations.  Then, buses will leave at 9:00 AM to SLHS and once it begins the fair will last about one hour.  Everyone will return to East at roughly 10:30 AM.  The list of colleges that will be present can be found here.  If you wish to opt out of the college fair, you need a parent or guardian to fill out a form, which can be found here.  If you choose to opt out, you will be given an alternative, career-based assignment.
Leave a Comment
About the Contributor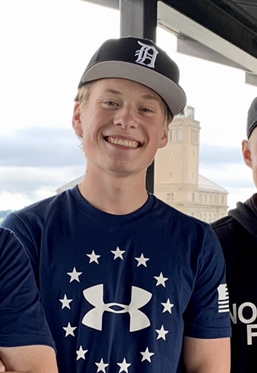 Drew Abrams, Editor
My name is Drew Abrams.  I love sports and plan to go to Michigan State for Journalism and sports media.  If you're reading something about football...