The Last Jedi: Another Star Wars Story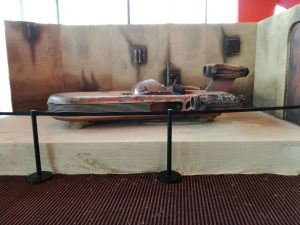 The new Star Wars movie release date is coming up quick. On December 15, Episode 8 is in theaters.
Fans have looked forward to the new movie for a long time. The shooting time for this movie was over 2 years.
Star Wars has been active since 1977 but after Revenge Of The Sith, made in 2005, it has been 10 years since The Force Awakens was released. After The Force Awakens, Star Wars made its come back and already planned on making more movies.
Right now, Star Wars has already 3 more episodes scheduled.
The new movie, The Last Jedi,  will be an international event and movie theaters all of the world are organizing a big premiere. The official premiere will be held in Los Angeles on December 8.
In Europe especially, it is a really big event, even in the smallest movie theaters.
Movie theater Cinemec in Utrecht, Netherlands is having the Dutch national premiere and is planning on making it the event of the year.
Assistant Floor Manager Hugo Zijtveld said since they host the national premiere they want to make it extra special, "We have the Star Wars exposition which Disney has arranged and, since it is the premiere big actors are coming to see it, we have a special appearance by Darth Vader."
For a big premiere it is important to make as much advertisement as possible. Zijtveld said, "We have been advertising through social media, posters aside the road, trailers for the movie and also word off mouth commercials because we do little talks before the other movies start and there we represent Star Wars."
The Last Jedi contains the same cast as Episode 7 and with some new talents: Mark Hamill, Carrie Fisher, Adam Driver, Daisy Ridley, John Boyega, Oscar Isaac, Andy Serkis, Lupita Nyong'o, Domhnall Gleeson, Anthony Daniels, Gwendoline Christie, and new talents Kelly Marie Tran, Laura Dern, and Benicio del Toro.
Fans of Star Wars everywhere are excited to see the newest movie.
Resident Mr. Steven Brown said, "This cast is different, they try to switch things up because it will never be as good as it was. So doing things differently is refreshing and fun."
In Episode 7, main character Han Solo died, and the famous Carrie Fisher passed away since the movie. Many think Star Wars will make up for the roles that are missing but some believe that Star Wars will never be as good as it was.
After The Force Awakens fan expectations are high. People are expecting a movie with a lot of plot twists which result from Episode 7 events and fans hope answers from the previous movie are revealed.