Kobe Bryant and Daughter Gianna Killed In A Helicopter Crash At 41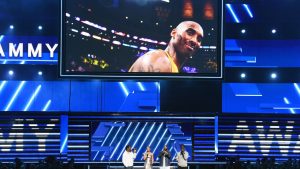 The news broke late Sunday morning, published and first reported by TMZ. In an absolutely surreal couple of hours, more and more new sites have confirmed one of the most shocking recent headlines for sports fans. All Star Kobe Bryant has died.
That morning in Calabasas, California, a helicopter carrying Bryant, his 13-year old daughter Gianna "Gigi", six other passengers and a pilot crashed, killing all on board. In the next twenty-four hours, fans, teammates, and legends alike wept at the passing of one of the most iconic NBA players of all time.
The helicopter carrying Bryant and his passengers was heading to a travel basketball game for Bryant's daughter. John Atobelli, a longtime college baseball coach and his wife and daughter Keri and Alyssa were also killed, along with Christina Mauser, Ara Zobayan, and an unknown pilot according to the Los Angeles Times.
"There's no words to express the pain I'm going through with this tragedy of losing my niece Gigi and my brother Kobe I love you and you will be missed. My condolences go to the Bryant family and the families of the other passengers on board," tweeted hall-of-famer and Kobe's former teammate Shaquille O'Neal.
O'Neil and Bryant won multiple championships when they were both members of the Los Angeles Lakers. Later Sunday night the Grammy's were hosted in the Staples Centre, home of the Lakers. Kobe played for the Lakers his entire career. In the rafters, Bryant's number eight and twenty-four (which had been retired last year) where moved next to each other and a spotlight was moved to better illuminate the numbers of the Black Mamba, Kobe's alter ego per KGTV.
Numerous stars paid tribute to Kobe later that night, as fans of the late legend wept outside, donning the Lakers and Kobe jerseys to form a memorial.
Per USA Today, Lizzo declared, "Tonight is for Kobe," after her performance.
"Earlier today, Los Angeles, America and the whole wide world lost a hero. And we're literally standing here heartbroken in the house that Kobe Bryant built," declared host Alicia Keys.
Tributes to Bryant have continued to appear all over the nation.
The Dallas Mavericks owner Mark Cuban declared that the Mavericks will retire no. 24 in honor of Kobe according to NBA.com.
Thousands flooded social media with heartfelt tributes to the 18-time all-star.
During WWE's Royal Rumble in Minute Maid Park in Houston, a moment of silence was observed in honor of Bryant, and a fan could be seen proudly holding up a replica of the legendary guards jersey near the stage.
Hawks point guard Trae Young wore no. 8 in honor of Bryant according to NBC Sports.
Kobe Bryant inspired an entire generation of basketball players and was considered to be one of the greatest athletes of all time. His daughter Gianna was a basketball player as well and had expressed publicly wanting to carry on her father's legacy.