East Walks Out: Students Protest for Safety
On February 14, 2018, Nikolas Cruz was dropped off via Uber driver in front of Marjory Stoneman Douglas High School, in Parkland, Florida. Moving with sinister purpose, Cruz approached the 1200 building. Soon after, at around 2:00 pm, gunshots were heard from inside the building.
What followed was one of the 10 deadliest mass shootings in modern U.S history. 17 people, teachers and students, died as a result of Cruz's actions. It was a final straw for many exhausted by the already numerous shootings this school year.
The Stage is Set
As a response to this tragedy, The National Women's March Organization called for a national school walkout on March 14 at 10:00 am which would last 17 minutes to memorialize the 17 victims of Parkland.
One group of students at South Lyon East High school, catching word of the walkout, decided they wanted to enact this in their school.
One of these people was Junior Gretchen Ascher, "So when I heard about that I talked with some of my friends and we decided that this is something we really wanted to look into for our school."
They contacted the administration, specifically reaching out to Principal Fisher, asking if they would be able to put on the walkout.
"The administration was helpful…they have to stay neutral but they provided us a place (the school gym) and some rules and regulations for the students, " Ascher said.
Ascher (along with Sabrin Sekhon, Will Ray, Matthew Emery, Faith Delgado, Erica Mendez Velazquez, Ashlyn Lawson, Rocky Harrison, and Madison Boyle) also started a Twitter account to communicate information as well a "Go-Fund-Me" account to raise money for buttons for students to wear during the walkout.
"We raised 600 dollars in two weeks, which was incredible. All the money we're not using we're…donating to the victim's fund of Stoneman Douglas High School," Ascher explained.
East Walks Out
On March 14, exactly 30 days from the Parkland shooting, many East students took action.
Sabrin Sekhon, another organizer, said, as the students came into the room, "It was really surreal…I was just so happy that so many people showed up because I didn't exactly expect it to be that many people…it just feels good that there's people wanting change in the school, wanting stuff to get better."
A few hundred students were gathered together with only one purpose in mind: change.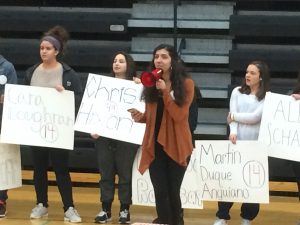 Through the din of chatter and the neighboring basketball game on the gym's other side, speakers passionately voiced their fear and anger with the state of the nation.
Junior Ashlyn Lawson started the protest off with a passionate speech, part of which is captured below:
Afterwards, Ascher thanked everyone for coming and gave a speech of her own addressing the Parkland tragedy and what students across America can do in response.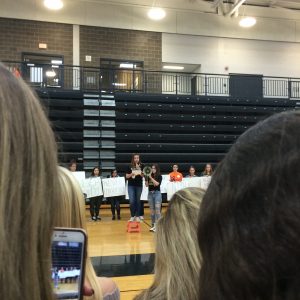 "Thoughts and prayers are not enough!" Ascher earnestly declared, and many students were in agreement.
Illustrating the central point of action over promises, the students were led in, not a moment of silence, as per custom, but in chanting "NOT ONE MORE!":
Soon afterwards, the students dissipated and returned to the rest of their third-hour classes, the same they had walked out on, and the 17-minute protest was over.
As for the message of this walkout, Ascher lists three main themes: "One is definitely memorializing the victims of Stoneman Douglas and all of the shooting that has happened in schools…saying they're 'gone but not forgotten' to us. Another big one is showing students that they have a voice and that they are able to change people's perspectives on this issue. And then third is to bring awareness to the issues surrounding gun control and safety in our schools."
Students Respond
Many students chose not to "walk out". Many felt that the message was unclear as to what exactly they were protesting for.
However, from those that went, many were in agreement that their main message was concern for their safety and that of their friends and also to demand change.
Junior Makayla Winstrand says, "I think it's really sad to see all these people dying and feeling the need to shoot up schools… I believe that America does have the right to bear arms but I also believe that there should be a mental evaluation and you should definitely be 21 because if you're not old enough to drink until 21, you should not be old enough to carry a weapon [until then]."
Senior Morgan King agrees, " I mean, honestly, I think it's a big issue. It's too easy for people to get guns. I do think that guns should be banned, but I know that's kind of unrealistic so I definitely think that it should be made a lot harder so that the people that shouldn't have them and do the wrong things with them shouldn't be able to get them. Like, you know, maybe raising the age…"
"I think that this is moving and it is definitely a good thing cause it's definitely a step in the right direction. I mean some people have the view of like 'oh, we get to miss 17 minutes of class.' but like really if you did do this walkout for the correct reason, it's moving," King added.
Senior Fallon Renehan says, "I don't know if I'm as radical as 'no guns ever.' I think in some countries that might work I don't know if that's fit for us, maybe it is…but I just think in general we need to do something because what we're doing isn't working, clearly."
Sophomore Donovan Wright says, " I feel like it's really sad how people treat other people, and I feel like there's no excuse for this. Children, or anyone really shouldn't have access to military weapons. And their excuse shouldn't be 'it's our second amendment right.'"
Senior Nick Freppon believes, "I don't think the country's in good hands right now like I think that with all these shootings and all this stuff, the world is not a safe place right now and we need just… we need some help, we need help. They need to get this world back to what it was when I was in, like, middle school."
He goes on to describe that, when he was in middle school, there may have been about 4 school shootings, and now there have been an equivalent number in a just a few months.
"The world needs to take a stance and do something about it. And I'm proud of these students for standing up and taking a stance. Kids need to feel safe in school. 'Cause if kids don't feel safe in school…there's no education, there's no reason to go there."
Winstrand had anxious thoughts at the time of the walkout, "I was honestly scared, sadly, because this would be the perfect opportunity for someone to shoot up the school…My mom almost did not send me to school in fear that something would happen at our peaceful protest."
Some students, specifically decided against the walkout.
"I think people are doing it for all the wrong reasons. I think that it should be to, like, mourn and honor the 17 kids who lost their lives, not to get rid of guns, 'cause that's not going to help anything," said a junior who wanted to remain nameless.
The Importance of Students
Despite holding conflicting viewpoints, one thing students did agree on was the importance and impact they can make.
Junior Derek Portillo agrees, "It's awesome that we have this opportunity to do something, to show our support…because what happened was very unfortunate, and it shouldn't have happened. But I'm glad we have this opportunity to stand up for our rights, to show people that we won't stand for this."
Wright agrees, "We're the future coming up and it's our job to change society and the events that are happening."
Sekhon agrees, "After those speeches, I could tell people were moved…Ashlyn's speech made me want to cry… people were coming up to us saying 'Good job! We're more aware of it now.' and just…it was really effective."
King agrees, "If there's enough of us, and there is a lot of us, and this is national…if so many people are doing it, obviously people that are high enough up that can actually make this change, they're going to realize that this is how everyone's feeling."
Renehan sums up the role of students, "It's things like this, and it's the kind of fire that we have right now that's going to make the change, so I think we do need to keep that up. And I think we do have power being that we are the targets of a lot of the gun problems, so I think it's especially up to us and it's our voices that are going to change things the most.
And the fact that we're kids is also really important because we are the future and…we decide the future that we make."