Ken: A Day in the Life of an Athletic Trainer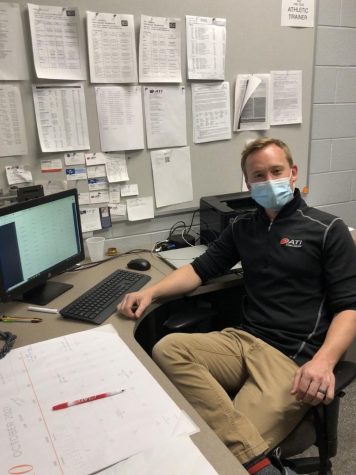 "I'm the person who is right there when it happens, the blood, the nastiness and the deformities…" 
Meet Ken Smoot, East's athletic trainer. Smoot's daily life is not as boring as it would seem, there's always something happening, "Usually, depending on the season, during August, I get here around 7 and leave at around 10. And I don't mean three hours, I mean the whole day."
Smoot works Monday-Fridays, and he also works during the weekends for tournaments or games happening at the school. 
Smoot is already busy as it is, but he also volunteers some of his time helping at PT clinics, "I work contracted 40 hours a week, but obviously I do more than that. I [also] help out in the PT clinics every once in a while when they need extra help. I used to work there 15 hours a week but now they need a lot more help here, so I work full time here… I [still] help out two PT clinics in the morning." 
Before he became a trainer, he was also an athlete figuring out what he wanted to do in the future. "I was an athlete myself. Growing up I was a big time wrestler and I ended up injuring myself pretty significantly and it was the end of my senior year. I ended up becoming close with my athletic trainer and physical therapist, and it was something that I was interested in."
Smoot wanted to be involved in the medical field in high school because he enjoyed helping people, but he also wanted to be involved with sports, so he wondered how he could involve the two in his future. 
"I dived into physical therapy and there is no bachelors for physical therapy, there's a doctorate, so you have to start at maybe a bachelor's degree in something else and then move your way on up." 
Figuring everything out, Smoot didn't feel physical therapy was the right path for him, so he decided to try athletic training and loved it, "I was like this is what I want to do, I don't want to be a physical therapist, I don't want to stay in the clinic all day, I want to work with athletes, I want to watch sports; I want to be involved and have a closer relationship with my athletes that I see every single day instead of just like this constant rotating door of people over and over again." 
Smoot knew what he wanted to do for the rest of his life and found being an athletic trainer happened by coincidence. "I was like 'ooo man this is definitely what I want to do now' and like I said if you fall in love with something, you know if you enjoy your job, it doesn't feel like work."
Smoot has been in this line of work for a while, he has been licensed as an athletic trainer since 2008. He obtained a bachelor's degree and his masters in athletic training from the University of Michigan. 
"[There's] not really too much of a difference between physical therapists and athletic trainers. You do you have to go to school for one extra year to be a physical therapist compared to an athletic trainer, they don't have to get a masters but they do need a doctorate, and that's why it is one extra year" 
Smoot continues to describe the difference between athletic trainers and physical therapists.
"Physical therapists usually just work with the rehab aspect, obviously we do rehab as well, but they do other things that I might not get into as much," Smoot explains, "I work with athletes I don't see a lot of like total knee replacements for an 80 year old person. I mostly work with the athletic community. Obviously I can work with all sorts of people, but that's where my specialty lies."
As for being an athletic trainer, he says, "I think a big part of my job too is diagnosing and treating acute injuries, so right when it happens, I'm the person who is right there when it happens, the blood, the nastiness and the deformities and those kinds of things and then getting them into the doctor. The physical therapist will see them after the fact they've had their injury."
In summary, the athletic trainer is first, then the doctor or surgeon, and last comes the physical trainer. "I wouldn't say there's a huge difference between physical therapists and athletic trainers, just maybe the type of people that they're working with." 
Specializing in athletic training, Smoot has helped a variety of athletes with an array of problems, Riley Scheloske from the swim team is one of them, "Ken helped me with my knees. I had tendonitis in both kneecaps. He helped me in the moment and in the long run to make sure the pain doesn't get to me anymore or as badly. I trusted him a lot. He was very knowledgeable and nice about everything."
Smoot helps out athletes, but he also helps out the coaches by making sure the coach's athletes don't hurt themselves. Jacob Topp, a football coach at South Lyon East, trusts Smoot and finds his position vital to his athletes. "It's obviously vital [to have an athletic trainer], you know. And I know some schools don't necessarily have the luxury of having a full time athletic trainer with their athletes all the time. And we don't just have a full athletic trainer all the time, we have Ken, who does a great job with our athletes."
Topp feels extremely fortunate to have Smoot working at South Lyon East, because he is someone that helps the athletes in a number of different ways. "I trust him as much as I've trusted anybody. He's very professional, he's very knowledgeable, he has a great relationship with the kids , he has a number of resources that he can send our student athletes to when they need to be referred to somebody else." 
"I know it sounds kind of cliche," Ken Smoot explains, "but if you do something that you love it's like you don't work a day in your life."
Even when there are lengthy hours or busy with , he finds the joys in his job outweighs the dislikes. "I wouldn't say [working's] really hard, it just ends up becoming a natural thing that you're doing … obviously there's going to be at least one or two parts of every job that there is an aspect you don't like but as long as you do things that you love weigh out the things you don't really love I think that's all you can really ask for."