Halloween 2020 features "New Normal"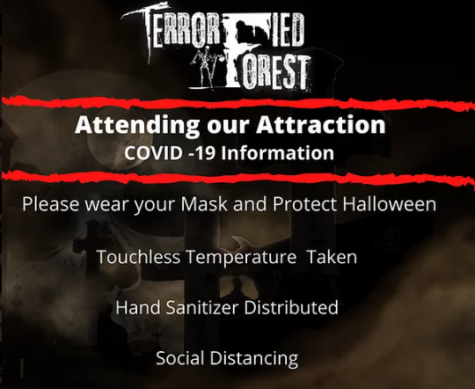 Downtown trick or treating in South Lyon has been cancelled due to COVID-19. Trick or Treating in Michigan has not been officially cancelled, however. 
There are still safety tips health officials are recommending. Homeowners passing out candy are planning things like sitting outside rather than kids coming up to the door, passing candy through hand-made 6 feet distancing contraptions, and wearing masks of course.  More health information about Trick or Treating in 2020 can be found here. 
10- year- old Camryn Kimble says, "I am going trick or treating this year with my dad. I am dressing as a skeleton with a mask that covers my whole face so I stay safe."
Some haunted houses are still open for the year. A popular one, Terrorfied Forest, has been open since September, and closes November 1st. 
Scare actor at the haunt, Kate Kimble, explained what is different for this season of scares, "We want you all to wear a mask, as us employees all wear masks too. Your temperature will be taken, we will give you hand sanitizer, and we ask that you social distance."
Madison French, a frequent Terrorfied Forest goer, says, "I go to Terrorfied Forest every year and they have improved a lot this year. I would definitely go back again next year because of how much they have improved. I would recommend Terrorfied Forest to a friend."